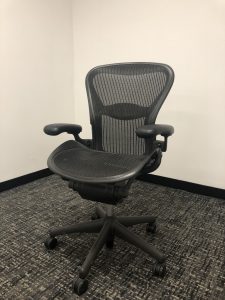 Seating
Seating in an office covers a wide range of purposes. Reception seating for making visitors feel welcome and to set the tone of your office, employee seating to with proper support and durability, conference chairs that are comfortable for your meetings and even break room seating need to be sturdy and functional. We have a wide range of options for all of these uses, and more.
While you will find chairs from the titans of office seating such as Herman Miller, Knoll, Steelcase, Haworth, Jofco, and others in our stores, you will also find many other high quality chairs for every need.
One of the most important items in an office is the work chair. Often overlooked, it is where one spends most of their time while in their office, and support, comfort, and functionality are all of vital concern.
In addition to task chairs, we have conference, side and lounge seating available. Our chairs are available at all price points with many matching sets in stock. Our chairs are given a full structural check and come with a one-year guarantee against manufactures defects.